Just as the crew of Star Trek's Enterprise sought to explore the outer reaches of space, it has always been the mission of 3Doodler to explore new dimensions of creativity.
Today we are launching a series of six Limited Edition Star Trek Crew Edition 3Doodler Create pen sets, available exclusively on Kickstarter.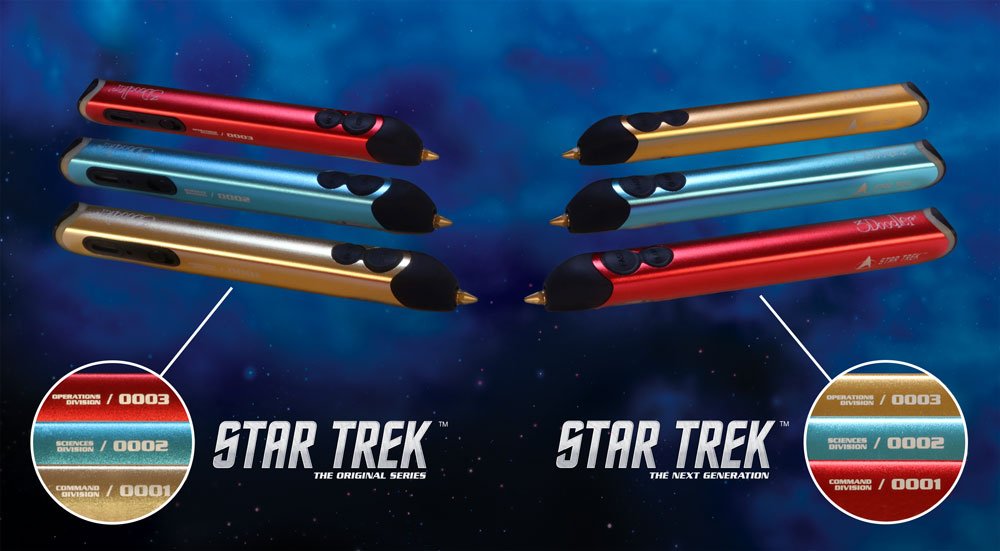 Set engines to Warp Factor 9! Engage!
Available only on Kickstarter for the next 21 days, 3Doodler is offering six specially licensed 3Doodler Create Star Trek pen sets, themed for The Original Series and The Next Generation.
These Limited Edition pens come with unique numbered engravings and include everything you need to bring your favorite Star Trek moments to life in your own home! All you have to do is decide which Series and Division your allegiance lies with, and then head here to back your pen set. Can't decide which crew to be a part of? Simply collect all six!
All pen sets are set to ship by August, so that you can get started on your own creative voyages as soon as Vulcanly possible.
Resistance is futile
For Trekkies who already own a 3Doodler, we also have a 3Doodler Create Star Trek Project Kit, with guides and stencils to replicate an array of favorite tech, accessories, and costume elements from both The Original Series and The Next Generation.
Get more details and see a special video story on the official Kickstarter "Gold" campaign page. Be sure to also follow us on Instagram, Facebook, and YouTube for more details and updates.
And of course…
Live long and prosper.